We employ more than 2,000 individuals and are an equal opportunity employer. We believe that eliminating barriers to employment results in a more plentiful recruiting pool, diverse perspectives to problem-solving, and stronger teams. We maintain a positive work environment by striving to create a strong culture of diversity and inclusion, supported by both our Code of Business Conduct and Ethics and our employment practices.
Our corporate policies outline our commitment to equal employment opportunity, nondiscrimination, and anti-harassment. Providing a professional, safe, and healthy workplace is imperative for us. Furthermore, we prohibit discrimination or harassment against any employee or applicant based on gender, race, ethnicity, or any other protected categories. We are committed to a harassment-free workplace, which is further supported through prevention training we provide for employees.
We contract with a third-party provider to advertise our open positions to enhance recruitment of diverse candidates including veterans, people with disabilities, minorities, and women. Diversity data, as self-reported by employees, for the past three years is presented below (data is current as of December 31 of each year).
Women and Minorities in Our Workforce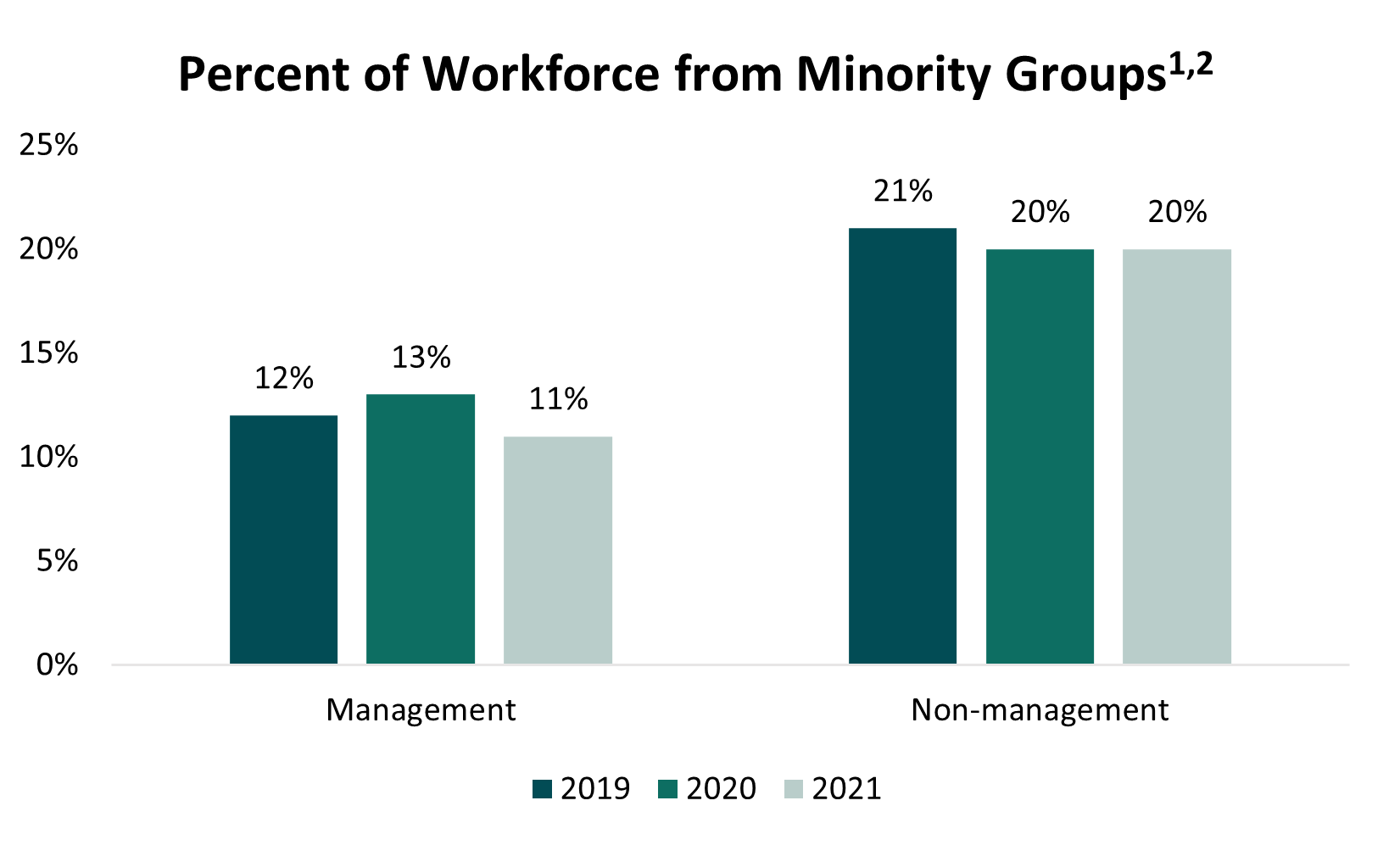 ---
1 As defined by the U.S. Equal Employment Opportunity Commission (EEOC)
2 As ethnic declaration is voluntary, ethnicity declaration rate is not 100% and all calculations are based on an employee declaration rate of 97% as of December 2021. The 3% of our workforce who have not provided data or have chosen not to declare their ethnicity were not included in our calculations.
Note: This data is self-reported by employees, reflecting the state of the company as of December 31 each year. It is an approximation and is expected to fluctuate and change year over year. It should not be interpreted as indicative of trends or guarantees of future results. Genesis Energy expressly disclaims any representation or warranty as to the accuracy or completeness of such data. The data may be modified, updated, changed, deleted, or supplemented from time to time without notice.