We recognize the importance of all stakeholders, including employees and the communities in which we work. Our programs aim to care for the well-being of our employees, while our culture values diversity and inclusion. We also aim to contribute to the strength of our communities through our community giving and volunteer efforts.
Our Employees
At Genesis Energy, we believe our employees are our most important asset and the cornerstone of our organization. We take steps to attract and retain talented people to safely operate our assets, foster customer relationships, and achieve our long-term goals. We are committed to employee retention, and we encourage our employees to maintain long-term careers at Genesis Energy.
Our compensation programs are integrated with our overall business strategies and management processes to incentivize performance, maximize returns, and build shareholder value. We participate in market surveys as well as work with consultants to benchmark our compensation and benefits programs to help us offer competitive remuneration packages to attract and retain high-performing employees.
To further support our employees, we offer a comprehensive and affordable benefits program that includes medical, dental, vision, life insurance, and disability protection, along with a generous retirement savings plan, including up to six percent matching. We also provide tuition reimbursement, an employee discount program, as well as options for Legal Shield and identity protection. Our benefits package options may vary depending on the type of employee and date of hire. Additionally, we continuously look for ways to improve employee work-life balance and the well-being of our employees and their families.
Diversity and Inclusion
As of December 31, 2022, we employed more than 2,100 individuals and are an equal opportunity employer. We believe that eliminating barriers to employment results in a more plentiful recruiting pool, diverse perspectives to problem-solving, and stronger teams. We maintain a positive work environment by striving to create a strong culture of diversity and inclusion, supported by both our Code of Business Conduct and Ethics and our employment practices.
We have policies in place that reinforce our commitment to diversity and inclusion within the workplace. Our employee handbook includes equal employment opportunity commitments and nondiscrimination and anti-harassment disclosures, which communicate our expectations with respect to maintaining a professional workplace free of harassment. We prohibit discrimination or harassment against any employee or applicant on the basis of sex, race, ethnicity, or any other protected categories. We are committed to a harassment-free workplace, which is further supported through training that covers multiple topics including unconscious bias.
We contract with a third-party provider to advertise our open positions to enhance recruitment of diverse candidates including veterans, people with disabilities, minorities, and women. Diversity data, as self-reported by employees, for the past three years is presented below (data is current as of December 31 of each year).
---
Women and Minorities in Our Workforce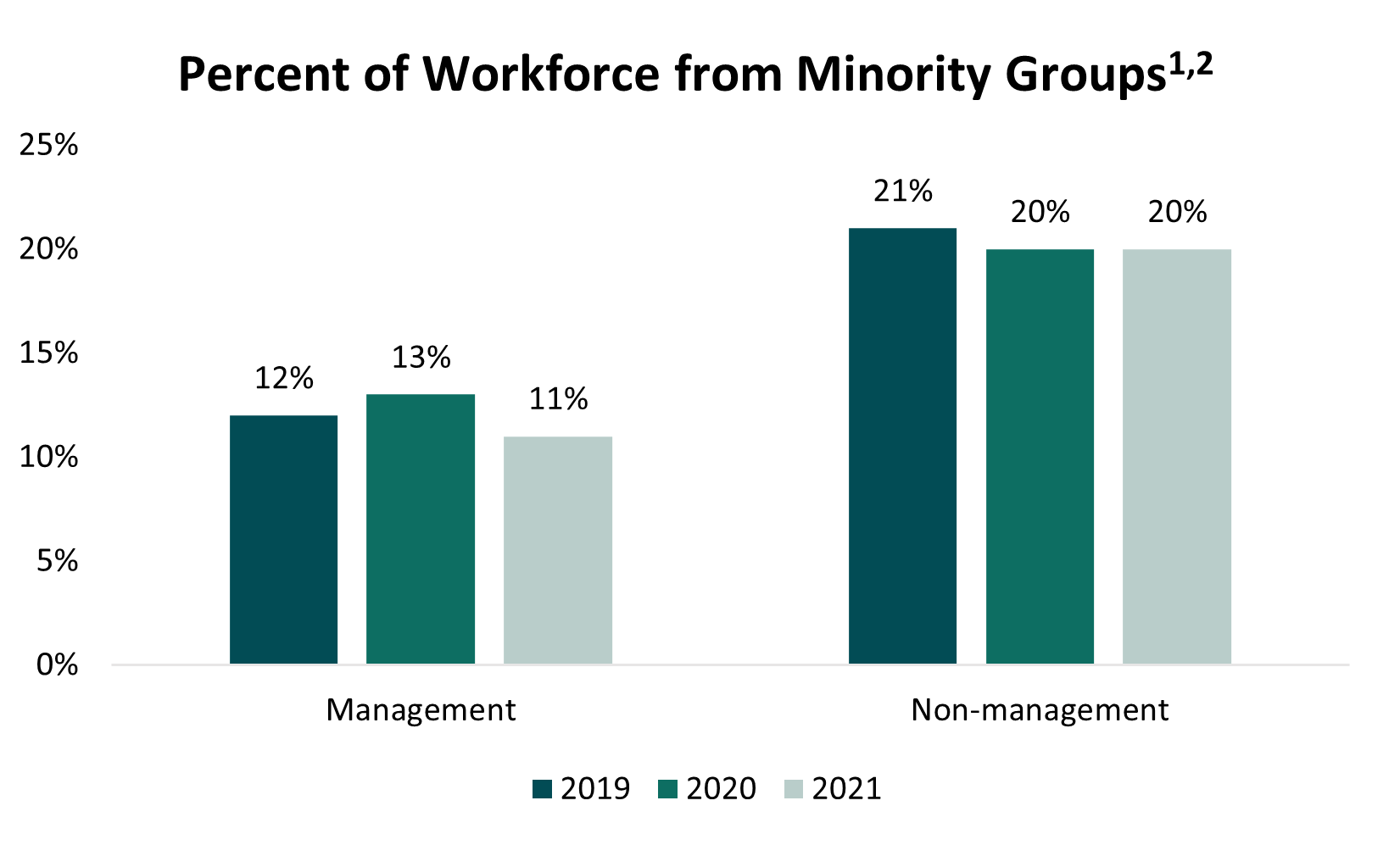 ---
1 As defined by the U.S. Equal Employment Opportunity Commission (EEOC).
2 As ethnic declaration is voluntary, ethnicity declaration rate is not 100% and all calculations are based on an employee declaration rate of 97% as of December 2021. The 3% of our workforce who have not provided data or have chosen not to declare their ethnicity were not included in our calculations.
Note: The data appearing above is an approximation and is expected to fluctuate and change year over year. It should not be interpreted as being indicative of trends or guarantees of future results. Genesis Energy expressly disclaims any representation or warranty as to the accuracy or completeness of such data. The data may be modified, updated, changed, deleted, or supplemented from time to time without notice.
Collective Bargaining Agreements
Genesis recognizes the right to organize and the right of unions to represent and negotiate on behalf of workers. We respect the rights of all workers to form and join unions of their own choice and to bargain collectively.
As of December 31, 2022, approximately 700 of our employees were covered under collective bargaining agreements. These collective bargaining agreements cover wage increases and other benefits, including the defined benefit pension plan, the post-employment benefit plan, and the enhanced 401(k) retirement savings plan. We consider our relationship with the union strong, and our relationship with our employees, including those covered by collective bargaining agreements, to be in good standing.
Training and Development
Our success as a company is measured by the successful performance of our employees in their respective roles. Thus, we provide training and equipment intended to allow each employee to perform his or her job functions safely and in compliance with all laws, regulations, and internal procedures.
We develop our employees through performance management processes, regular coaching, and supervisory and leadership training while also offering a tuition reimbursement program. Our annual performance management cycle enables managers and employees to collaborate to set performance goals and development objectives that align to business objectives. We also provide in-house health and safety training and emergency response training. Employee attendance at external workshops, conferences, and other training events is also encouraged.
Our Communities
At Genesis Energy, we believe our neighbors, governments, and communities play an important role in how we conduct our business. We strive to build and maintain healthy relationships throughout all areas where we operate. We believe in two-way engagement and dialogue with local stakeholders to build trust and foster collaboration.
Community Investment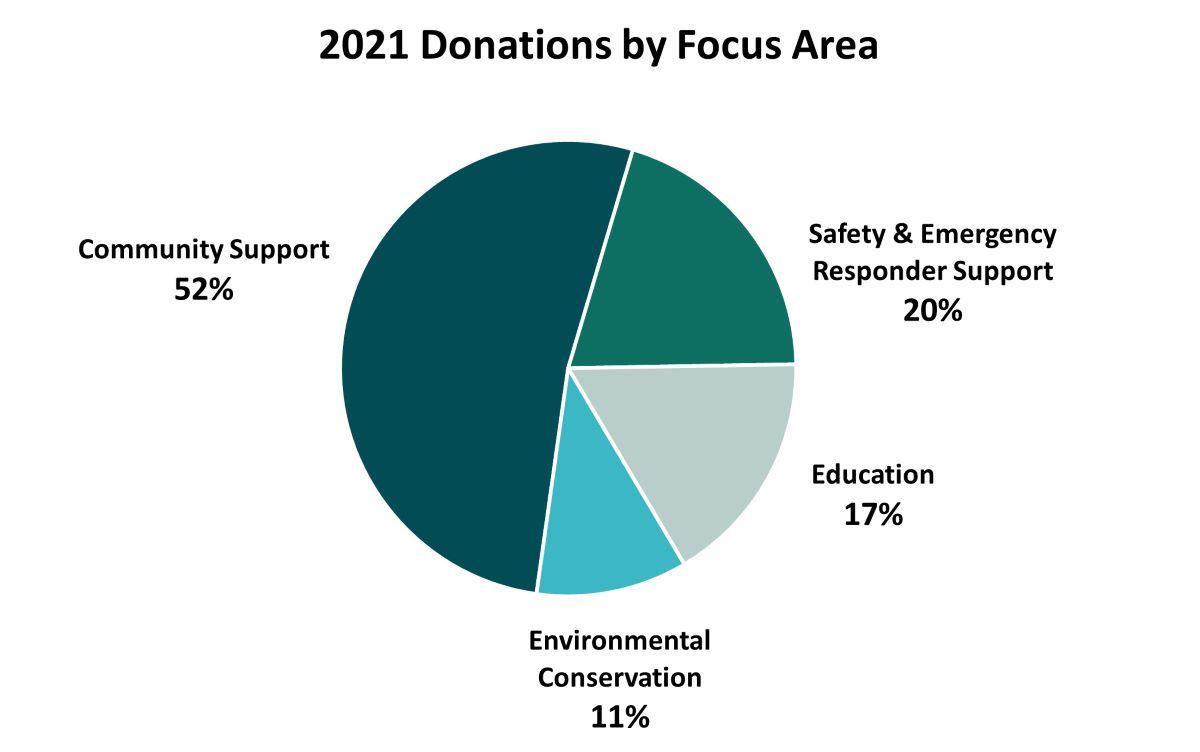 Genesis Energy is committed to being a good corporate citizen in the communities in which we operate by making positive contributions through local initiatives to deliver meaningful social and economic impact.
Genesis Energy has contributed the following economic benefits to the communities in which we operate:
Hiring locally and providing a competitive compensation and benefits package
Sourcing vendors and suppliers from the communities in which we operate
Bolstering local revenues through property and sales taxes
Providing monetary and nonmonetary support to local organizations through our corporate giving and volunteer programs
Investing in the communities in which we work is a mutually beneficial proposition. We focus our donations in four main areas where we believe we will have the most impact: community support, education, safety and emergency responder support, and environmental conservation. We look for local institutions, programs, and projects that:
Align with our business goals, philosophies, and values
Make a distinctive contribution with measurable impact
Provide opportunities to collaborate with business partners and/or community leaders and other stakeholders
Read more about our corporate giving initiatives below.
| | |
| --- | --- |
| Community Support | We provide monetary donations to local food banks to help support our local communities. These donations provide over 100,000 meals across the Gulf Coast and in Wyoming. We support Houston's Be A Resource for CPS Kids (BEAR) holiday gift program through monetary donations and an employee toy drive. We support multiple health programs in Wyoming, including Cowboys Against Cancer and the Memorial Hospital of Sweetwater. |
| Education | We support Junior Achievement in Houston, Texas, and Baton Rouge, Louisiana. Junior Achievement helps prepare children to succeed in the global economy. Our donations to the University of Wyoming have helped build a new process control lab that expands the University's training and research in the areas of control engineering, instrumentation, simulation, and design and construction of process control systems. |
| Safety and Emergency Responder Support | We support safety and emergency responders through donations to the local Volunteer Fire Department as well as the Firehouse Sub Public Safety Foundation. We also support the Seaman's Church Institute. |
| Environmental Conservation | We support environmental conservation in Galveston, Texas, and throughout the Gulf Coast through The Galveston Bay Foundation and The Conservation Fund. These organizations work to preserve and restore critical environments. Our targeted contributions to the Wyoming Wildlife Foundation have provided for the construction of conservation fencing around our Granger facility to protect and preserve natural habitat. We also support Ducks Unlimited and the Teton Raptor Center. |
Note: The data appearing in the graph above is an approximation and is expected to fluctuate and change year over year. It should not be interpreted as being indicative of trends or guarantees of future results. Genesis Energy expressly disclaims any representation or warranty as to the accuracy or completeness of such data. The data may be modified, updated, changed, deleted, or supplemented from time to time without notice.
Employee Volunteerism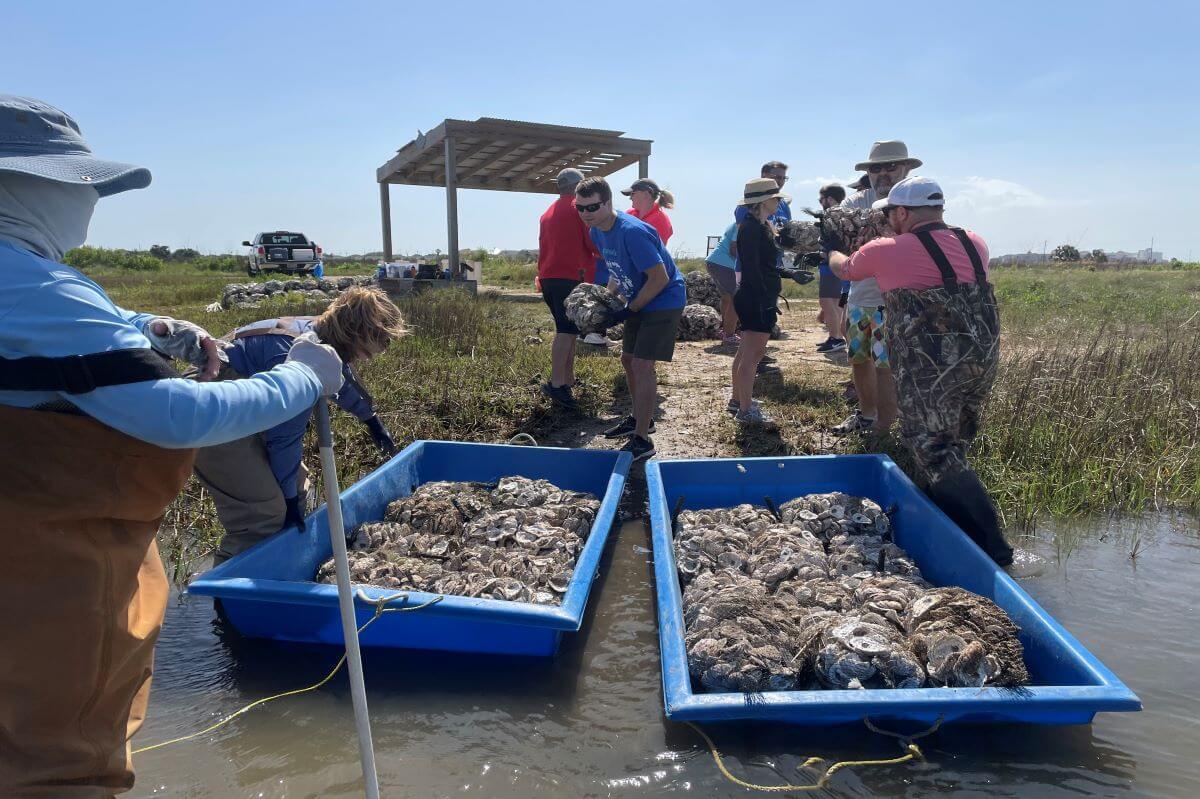 We encourage our employees to volunteer and give back to the community by offering company organized opportunities to partner with local charities and programs. These events include working with local food banks and other organizations to support environmental restoration through tree plantings, oyster reef restoration, reforestation projects, and park and wetland cleanups.
Genesis volunteers helped construct and place reef "bars" (mesh bags filled with recycled oyster shells) in the shallow shoreline waters of Galveston Bay at the Galveston Bay Foundation's Sweetwater Preserve. The oyster reef restoration activity had at least a three-fold environmental impact: the reef structure acts as a natural breakwater to reduce wave action against the shoreline, allowing marsh habitat to restore, the structure provides vital habitat for many aquatic species including oysters, and the oysters that will inhabit the structure will naturally filter and clean the water.
The Genesis Team created over 120 oyster shell bags and returned 156 oyster shell bags to the bay. This project returned over two tons of recycled oyster shells to the bay, thereby diverting them from local landfills. The team constructed 25 feet of oyster shell breakwater and created homes for over 12,000 oysters.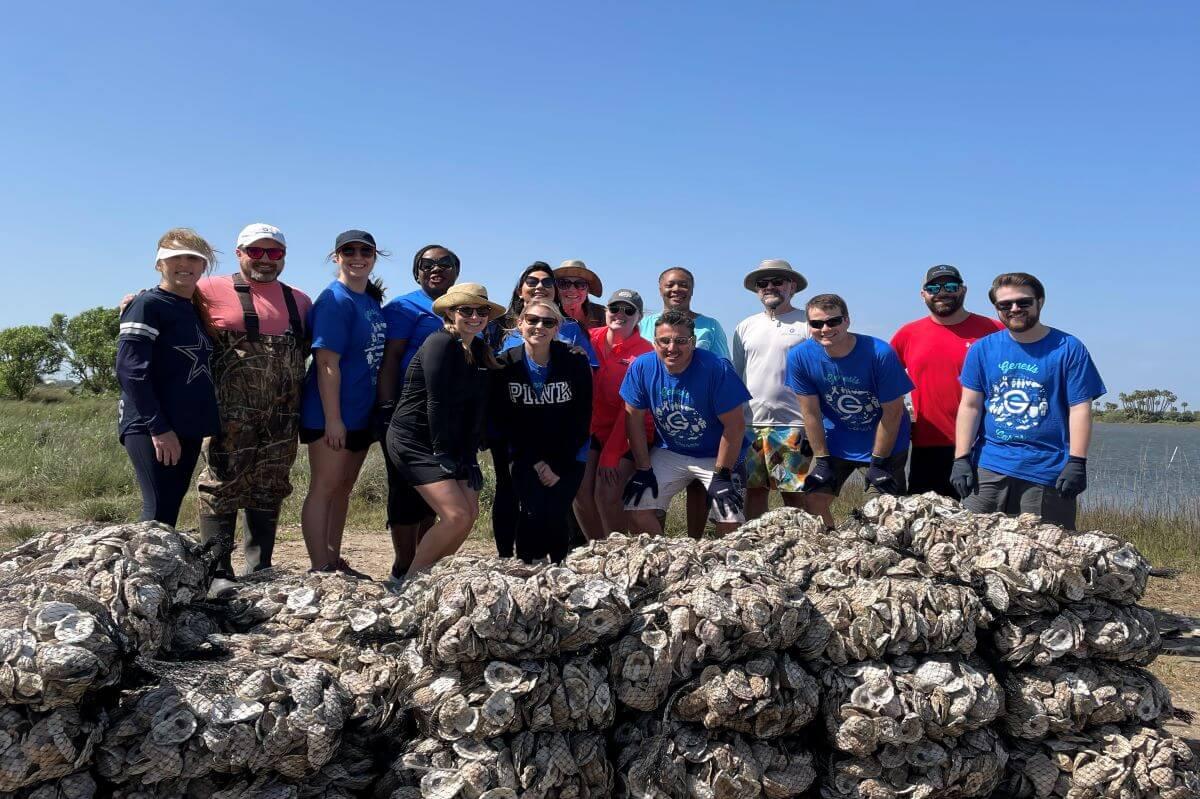 Indigenous Peoples
While Genesis Energy does not currently have operations located on federally recognized tribal lands, we acknowledge the legal rights of indigenous peoples and the importance of their culture. Should our future operations require permits or other rights to operate on, in, or near land belonging to indigenous peoples, we are committed to communicating and cooperating in good faith and will work to build long-term relationships with those who could be impacted by our operations.
Our Suppliers
At Genesis Energy, we value our business partners and recognize that our mutual success is built on open communication and a commitment to common principles and business standards and practices. Our expectation is that all of our contractors, subcontractors, suppliers, vendors, consultants, and business partners adhere to the standards set forth in our Code of Business Conduct and Ethics and our Supplier Code of Conduct.
Sustainability Questions
Have questions?  Please contact our Investor Relations department directly.