Our Board of Directors and Executive Management Team are committed to sound principles of corporate governance. Such principles are critical for us to achieve our long-term performance goals and maintain the trust and confidence of our stakeholders, employees, customers, and business partners.
Our corporate governance practices and policies are detailed in our Corporate Governance Guidelines.
Read Our Corporate Governance Guidelines
Our Audit and Governance, Compensation, and Business Development committees operate under their own charters.
Board of Directors
At Genesis Energy, our Board of Directors oversees the management and makes decisions that promote the success of our operations by evaluating strategic initiatives, risk management objectives, environmental initiatives, and workplace safety. We proudly have a majority of independent directors with vast industry, financial, and risk management experience.
Our Board of Directors serves a critical role for our company. Each director has a broad and diverse background, relevant experience, and management success, all of which are used to mold our corporate strategy.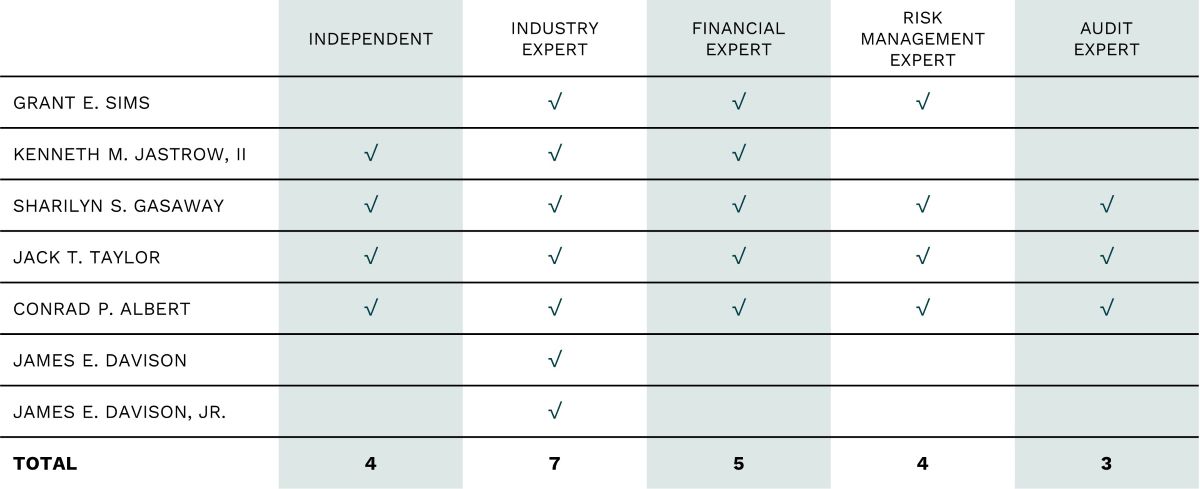 The majority of our directors, including our lead director, are independent. Annual self-evaluations are performed to determine whether the Board of Directors and its committees are functioning effectively.
Code of Conduct
Genesis Energy maintains a Code of Business Conduct and Ethics. Each year, all employees must read and acknowledge that they understand the Code of Business Conduct and Ethics.
Compliance and Ethics Hotline
Genesis Energy maintains a Compliance and Ethics Hotline that is monitored 24 hours a day, 7 days a week, by an independent third-party organization. Employees and other interested parties may call (844) 988-1695 and submit concerns they have regarding any ethics, accounting, human resources, safety, environmental, or other potential topics. All calls can be made confidentially, anonymously (where allowed by law), and without fear of retaliation. We are committed to investigating and responding to such concerns in a prompt and responsible manner.
Human Rights
Genesis Energy is committed to respecting human rights principles in the conduct of our business, and we apply our guidelines and policies to employees and suppliers alike.
Risk Management
We face a number of risks, including but not limited to matters relating to the environment, regulation, competition, fluctuations in commodity prices and interest rates, and severe weather. Management is responsible for the day-to-day management of the risks our company faces, although our Board of Directors as a whole has responsibility for the oversight of our risk management policies.
The Chief Financial Officer is responsible for our Enterprise Risk Management (ERM) process. Our process requires conducting a comprehensive risk management assessment of each of our business segments. Risks are analyzed based on probability of occurrence, potential impact to the company, and the time frame that the impact would become apparent. The most significant risks, indicators, and mitigating strategies are summarized in detail, then are reviewed and discussed with the Board of Directors. While some risks cannot be fully mitigated, Genesis Energy's management teams have assessed the significant enterprise risks that the company faces and have mitigated them to the extent that is prudent and cost-effective to the company.
Internal Audit
At Genesis Energy, an annual risk assessment is performed by our internal audit team to identify and evaluate risks in all aspects of our company operations. Our ethical standards, including FCPA compliance, anti-bribery, and anti-corruption-related risks, as well as compliance with the Genesis Energy, L.P Code of Business Conduct and Ethics, are audited, at a minimum, every other year. Audit results are regularly reported to the Board of Directors' Audit Committee and are used to assess the design and effectiveness of our policies, processes, and procedures and to implement changes or corrective actions, as needed. 
Financial Code of Conduct
Our Financial Code of Conduct includes the promotion of professional conduct in the practice of financial management. Financial and accounting personnel hold an important role in corporate governance because they are uniquely capable and empowered to ensure that all stakeholders' interests are appropriately balanced, protected, and preserved. Our employees are expected to abide by this code as well as any other applicable Genesis Energy policies or guidelines related to the areas covered by this code.
Sustainability Questions
Have questions?  Please contact our Investor Relations department directly.