Sodium bicarbonate, also known as baking soda, has been used for centuries for a broad array of applications. It is a highly popular, environmentally friendly compound revered for its versatility.
What It's Used For
Sodium bicarbonate is the basic component in virtually all leavening processes used in your favorite baked goods, such as cakes, muffins, biscuits, cookies, and pancakes. Baking soda reacts with acids to release carbon dioxide (CO2) gas in the form of bubbles within the dough. The CO2 expands the dough during mixing and baking to provide increased volume and a pleasing texture to the baked goods. Baking soda also acts to buffer the dough, allowing the other ingredients of the mix to react properly. Sodium bicarbonate is also used in dry beverage mixes to create CO2 when the desired liquid is added.
Biodegradable, soluble in water, and environmentally friendly, Alkali's sodium bicarbonate grades are used in a variety of other industrial and commercial applications. It provides pH and buffer control in water treatment and cleaning products, helps livestock maintain their electrolyte balance as a sodium source in animal feed, serves as an abrasive agent in both industrial and personal care products, and more.
Alkali also has the capacity to produce Hemodialysis Grade sodium bicarbonate for treatments associated with blood dialysis. The stringent quality and purity specifications of Hemodialysis Grade sodium bicarbonate are closely monitored by our team in a cGMP-compliant facility.
Alkali produces a full range of sodium bicarbonate grades at our vertically integrated facility in Green River, Wyoming. Our position as the alkali leader in natural, trona-based products reflects our commitment to the sodium bicarbonate industry. Sodium bicarbonate is commonly used in the following:
Industrial Applications
Food Products
Consumer Applications
Pharmaceutical and Health
Animal Feed
Blood Dialysis
How It's Transported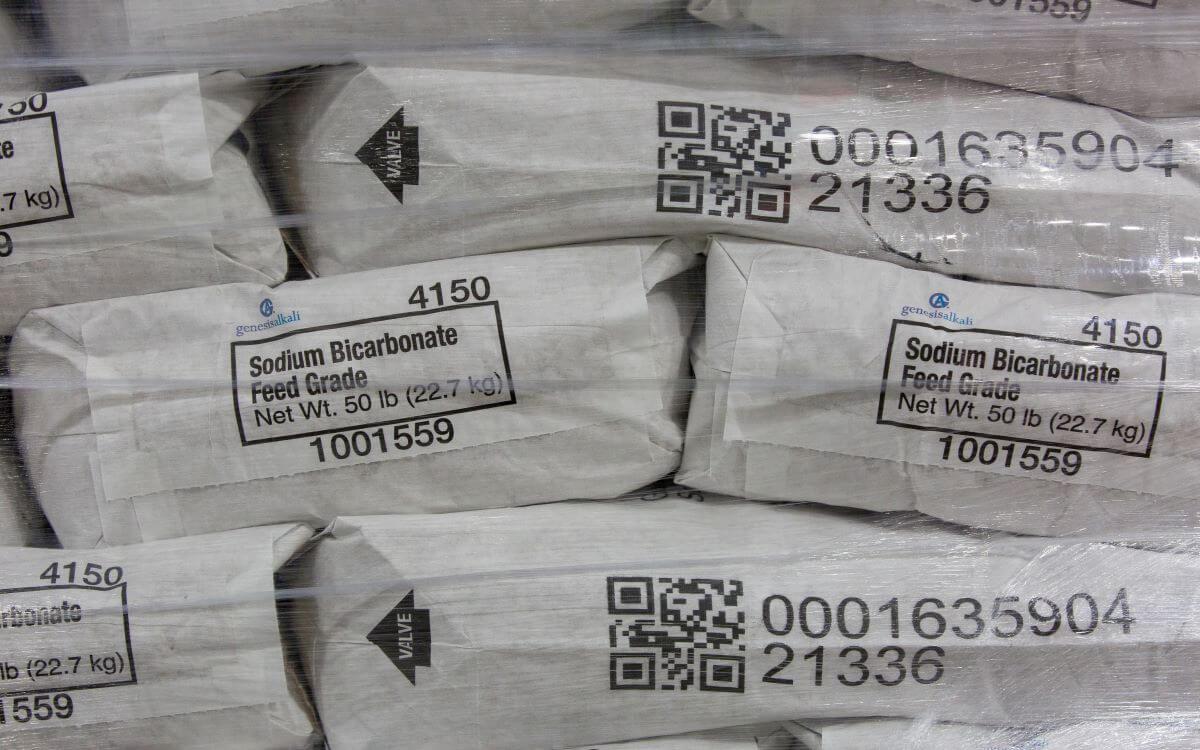 Genesis sodium bicarbonate is available from our Green River, Wyoming, manufacturing site as well as warehouses across the United States. It is offered in 50-pound bags, bulk bags, bulk trucks, and railcars.
How It's Made
Genesis Alkali mines naturally occurring trona ore and processes it at our vertically integrated facility in Green River, Wyoming, to make a ≥99% pure sodium bicarbonate. No preservatives, flavorings, colorings, or vitamins are added to the product. Our facility is ISO 9001 certified and is registered with the Food and Drug Administration (FDA) as a manufacturer of food (Food Facility Registration). The sodium bicarbonate plant is FSMA/CGMP/Q7 compliant and is GFSI certified (FSSC 22000).
The Organic Materials Review Institute (OMRI) has confirmed that our specialty sodium bicarbonate products comply with USDA National Organic Program standards. Our sodium bicarbonate has been OMRI Listed® since 2009. So if your company offers, or is considering offering, premium product lines promoting natural or "Made with Organic" designations, our sodium bicarbonate can help you meet your requirements.
SDS / TDS / Product Documents
Access technical data for all of our soda ash products by downloading the associated Safety Data Sheet (SDS) and details in the Technical Data Sheet (TDS).